Giving you instantly glowing skin
Hydrafacial
A hydrafacial is one of the most powerful, non-invasive skin resurfacing treatments. It combines cleansing, exfoliation, extraction, hydration and antioxidant protection that removes dead skin cells and impurities while delivering hydrating serums into the skin.
Giving you instantly glowing skin
A Hydrafacial includes- Lymphatic drainage, exfoliation, chemical exfoliation with superficial chemical peels glycolic/salicylic acid, extraction, a targeting booster chemical peel for skin concerns, hydration with hyaluronic acid and LED light therapy.
Hydrafacial helps improve:
Oily, acne-prone skin

Dry skin

Uneven skin tone

Fine lines and wrinkles

Hyperpigmentation
Sun damage

Age spots

Blackheads

Enlarged and clogged pores
FREQUENTLY ASKED QUESTIONS
An individual treatment starts from £150. A course of 3-6 hydrafacials will be 20% off. Although prices may vary depending on each individual. 
What happens during the procedure?
At your consultation we will discuss your worries and carry out a full skin analysis. You will have the option to use some home-care products which are most suited to your skin. The procedure is not painful and you can feel a tingling and warm feeling when the peel is applied.
What will I look like immediately after?
There is no downtime and you can resume with day-to-day activities. Your skin may be slightly red and sensitive but will look and feel normal after a few hours. Your skin will be glowing.
What should I do or avoid after treatment?
You should avoid sun exposure and use an SPF factor 50 on your face.
You can start seeing visible improvements of your skin straight away but full results will be seen when the course is completed.
How many treatments do I need?
We highly recommend a course of 3 to 6 sessions for optimum results with 4 week intervals. Clients can then maintain their results by having a follow-up treatment every 3 months. A treatment plan can be designed on your consultation.
Simply book in by clicking on the 'Book Treatment' button, where you can check our availability and schedule yourself in
Skincare products crafted with love by Award-Winning Medical Professionals
Skincare products crafted with love by Award-Winning Medical Professionals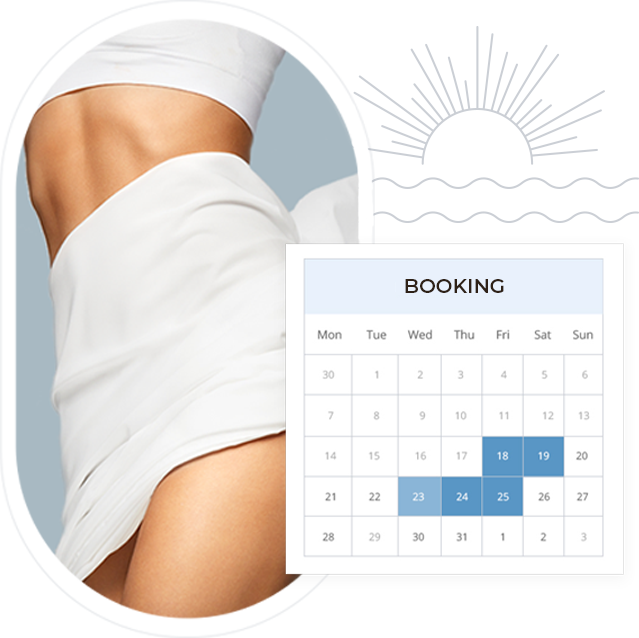 For Your Sessions & Appointments
We are an Award-winning practice specialising in enhancing your natural beauty, leaving you feeling Confident and Ready to Take on the World.
We know you're busy, so once you have had a look at what we can offer simply book-in online or schedule your free consultation. If you prefer to speak to us, do not hesitate to contact us- we're more than happy to help.
Book your consultation & treatment!