Transform your skin with the only FDA approved
SkinPen Medical Microneedling
Some of us naturally produce less protein in our bodies or slowly lose it due to age
Confident in your own skin
Transform your skin with the only FDA approved, Award-Winning Treatment- SkinPen medical microneedling
Some of us naturally produce less protein in our bodies or slowly lose it due to age, although collagen, which is a key ingredient used within this treatment, acts as essential protein to give structure and strengthens your bones. This treatment increases collagen in the skin by 400% after one session, reducing the appearance of fine lines and wrinkles, acne scars, stretch marks, and pigmentation.
It can be used on the face to also treat open pores and breakouts, as well as, the hands, body and even scalp to help with hair loss. Due to the nature of the treatment, it is also ideal for ageing skin helping smooth fine lines and wrinkles.
SkinPen Medical Microneedling a state of the art treatment, with an award-winning device which is only available to approved medical professionals,
It is suited to all skin types, we recommend 3 to 6 sessions for best results but one or two sessions are ideal for skin rejuvenation.
Pain-free with instant numbing cream used

Skin tone is even and texture is improved

Reduced appearance of fine lines and wrinkles

Repairs acne scars, stretch marks, and pockmarks

Skin appears smoother and softer

Pigmentation and age spots from sun damage are reduced

Skin feels more hydrated and nourished

Open pores and breakouts are reduced
If you've got any questions or would like a consultation, please feel free to book your free consultation.
ADD-ONS TO YOUR MICRONEEDLING
Skin perfusion hyaluronic youth mask - £15
This is used following your Skinpen treatment to soothe, calm and hydrate the skin. Aloe Vera nourishes the skin and restores comfort. Hyaluronic acid & collagen can seep straight into the open needle pores to help renew skin cells and help with a number of skin concerns such as volume, hydration, wrinkles and scarring.
Hyaluronic Acid

Collagen

Aloe Vera
Designed to target pigmentation and to lighten and brighten the skin. A unique combination of gluconolacctone with phytic, citric and glycolic acids.
This peel is ideal as an anti-ageing solution, for patients wanting to erase the first signs of ageing, without needles and injections.
NCTF135HA MESOTHERAPY SOLUTION - £50
NCTF® 135HA is a unique, Positive Pro-ageing, polyrevitalising solution that provides the dermis with the essential ingredients it needs to thrive. It creates the optimal environment to reboost fibroblasts activity, which are responsible for the production of collagen, elastin and hyaluronic acid. NCTF® 135HA stimulates the skin without changing the facial features or expressions. Containing free HA, the New Cellular Treatment Factor (NCTF®) smoothes out fine lines, restores radiance, deeply nourishes the skin and increases density of the dermis.
If you've got any questions or would like a consultation, please feel free to book your free consultation.
FREQUENTLY ASKED QUESTIONS
The cost depends on the treatments you receive, each individual SkinPen treatment is £240. We start with a course of 3 sessions, which is discounted.
Collagen is a key ingredient we need for our skin to look and feel healthier, smooth and radiant. Microneedling uses tiny needles to penetrate through the skin to create a wound-healing reaction, as a result, new collagen and elastin fibers are immediately stimulated through the hundreds of microchannels created in the skin. As collagen increases in the skin, this treatment targets scarring from acne, stretch marks, pigmentation, and melasma.
The SkinPen Microneedling, also known as collagen induction therapy, creates hundreds of microchannels within the skin and stimulates the skins natural production of collagen.
What happens during the procedure?
At your consultation, we will discuss your worries and carry out a full skin analysis. Instant numbing cream is applied to the area. The procedure takes 30-45mins and is painless. Once the treatment is carried out full aftercare is given.
What will I look like immediately after?
Your skin can be red and sensitive treatment similar to mild sunburn. Each individuals healing will vary but will start to return to normal within 24 hours
What should I do or avoid after treatment?
You should avoid sun exposure and use an SPF factor 50 on your face. Make up or any products on the skin should be avoided for 24 hours.
You can start seeing visible improvements of your skin straight away but full results will be seen within 2 weeks of treatment.
How many treatments do I need?
We understand everyone is different, as a result, a bespoke treatment plan will be designed during your consultation. We highly recommend a course of 3 to 6 sessions for optimum results with 4-week intervals, once completed we recommend clients can maintain their treatment by having courses of 3 sessions twice a year.
Simply book in by clicking on the 'Book Treatment' button, where you can check our availability and schedule yourself in with us.
Skincare products crafted with love by Award-Winning Medical Professionals
Skincare products crafted with love by Award-Winning Medical Professionals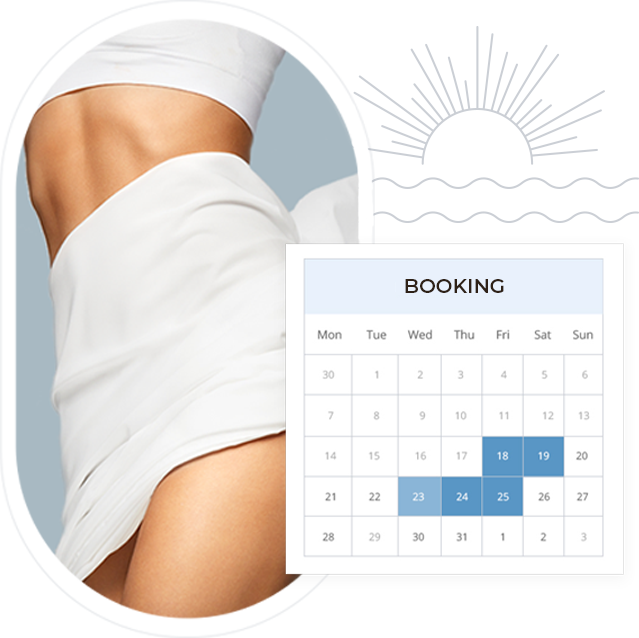 For Your Sessions & Appointments
We are an Award-winning practice specialising in enhancing your natural beauty, leaving you feeling Confident and Ready to Take on the World.
We know you're busy, so once you have had a look at what we can offer simply book-in online or schedule your free consultation. If you prefer to speak to us, do not hesitate to contact us- we're more than happy to help.
Book your consultation & treatment!