Prevent & smooth your perioral area
perioral "smokers lines"
You may suffer with lines above and below you lips. This can be known as the 'smokers lines' however can also occur from piercing of the lips due to drinking from a straw, bottle or just general ageing.
This area can be treated with a combination of botox and dermal filler treatments. Botox is used to prevent and stop the piercing movement and filler can be done to get rid and smooth lines which have already been formed.
Prevents and stop movement which can make lines worse

Targets both movement and lines already present

Enhanced, youthful looking skin with a glowing appearance

Targets wrinkles and loss of volume for a smooth look
If you've got any questions or would like a consultation, please feel free to book your free consultation.
FREQUENTLY ASKED QUESTIONS
The prices start from £250 although individual prices may vary depending on each client.
We use industry leading products that are trusted by qualified medical professionals. Our products also contain lidocaine - this is an anaesthetic which will make the procedure less painful.
We believe in using the best quality fillers for the most effective results. We always tailor the treatments to each individual to ensure excellent results.
What to expect prior to the treatment?
We offer a free consultation at our clinic where we can have a chat about your treatment and offer some advice over coffee.
How about during the treatment?
A full consultation is carried out where photographs are taken and any questions or concerns are answered prior to the procedure.  Firstly, the numbing cream is applied and when numb the filler is injected into the area using an extremely fine needle. You will be able to see results straight away.
It is normal for the treated area to be slightly red and swollen straight after the treatment. There may also be some bruising but this can be reduced by using an ice pack on the treated area and arnica gel provided. These effects will subside in a few days.
What shall I do or avoid after treatment?
You will be given full post-treatment instructions which you must follow. It is advised not to rub the skin for 4 to 6 hours or massage. In addition, you should try to avoid strenuous exercise, hot baths, showers or saunas and alcohol consumption.
When will I see the full end result of the treatment?
The results are visible straight away but it may take a day or so for swelling and redness to reduce and the complete results to be apparent.
How long does it last for?
As very high quality fillers are used our treatments can last from 6-18 months but can vary depending on each client.
Simply book in by clicking on the 'Book Treatment' button, where you can check our availability and schedule yourself in with us. We kindly request a deposit which will be taken off the overall treatment price
Skincare products crafted with love by Award-Winning Medical Professionals
Skincare products crafted with love by Award-Winning Medical Professionals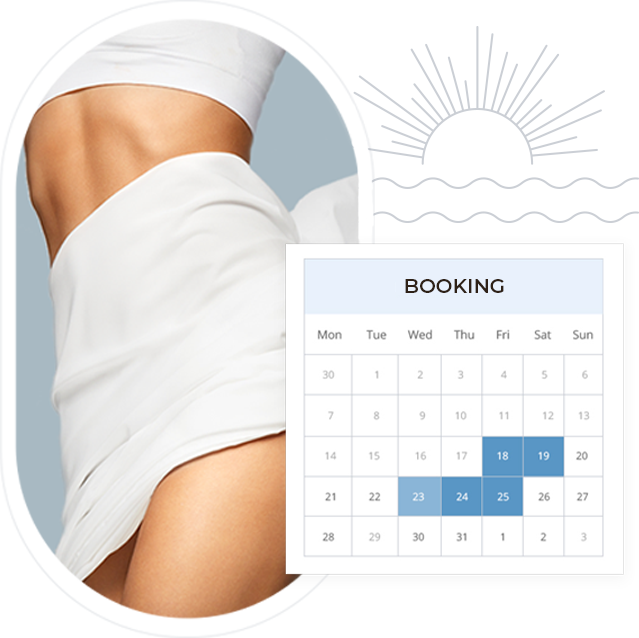 For Your Sessions & Appointments
We are an Award-winning practice specialising in enhancing your natural beauty, leaving you feeling Confident and Ready to Take on the World.
We know you're busy, so once you have had a look at what we can offer simply book-in online or schedule your free consultation. If you prefer to speak to us, do not hesitate to contact us- we're more than happy to help.
Book your consultation & treatment!